Bonjour Lecteur!
Le week-end dernier a été très chargé, nous avons clôturé du terrain, déplacer des tas de pierres (sans rigoler, c'est très sérieux), planté des poteaux pour étendre le linge et récupéré des pensionnaires à garder (l'un d'entre eux sera présent sur les photos du sujet de cet article... C'est dur à gérer un chaton quand on veut prendre des photos) donc au final l'article prévu est passé à la trappe. Le voici donc avec un peu de retard.
Si tu as bien lu mon précédent article (ici: http://gettingoutofthecloset.over-blog.com/2017/06/la-robe-de-jour-second-empire-blanche-et-noire-a-black-and-white-day-dress.html ) tu sauras que j'ai un budget plutôt serré pour la tenue sur laquelle je travaille. Je suis donc dans l'impossibilité d'acheter une crinoline toute faite et dans ces cas là on est créatif et on se tire les doigts du cul motive à faire les choses soi-même.
J'ai utilisé la technique que m'a apprise ma mère pour faire des crinos rapidement; j'ai modifié un chouia pour que ça colle plus a la réalité historique (volant dans le bas, plus de cercles, ceinture montée sur un monte-jupe et fermeture sur l'avant beaucoup plus complexe que la simple coulisse à la taille pratiquée par la maternelle autorité... Ce fichu noeud à la taille m'a fait enrager dés que je portais une crino, il se défaisait tout le temps c'était très pénible...) mais sinon c'est un "simple" rectangle de tissus avec des coulisses permettant le baleinage et le tout est réglé sur mannequin avec du masking tape et beaucoup de patience.
Voici la bête!
***
Hello Reader!
Last week-end was verry busy, We fenced some ground, moved a lot of stones (that's pretty serious, no laughing), planted poles to spread the laundry and picked some animals to keep with us for a time (one of them will be seen on some pictures in this article... Hard to hold a kitten wile taking picture) so in the end the planned article is passed out to the trapdoor and here it is with a bit of late.
If you have well read my last article (here: http://gettingoutofthecloset.over-blog.com/2017/06/la-robe-de-jour-second-empire-blanche-et-noire-a-black-and-white-day-dress.html )you will know that my budget for this dress is not huge at all. So I cannot afford to buy me a crinoline already made into a shop and in that case let's be creative and find the courage to make it ourself.
I use the technique learned from my mother to make quick crinolines easily; I change a few things to make it more close from the historical (decoration at the botton, more circles, belt mounted and closure on the front much more complex than the simple slide make by the maternal autority... This damn knot at the waist wasn't practical at all) but basically it is a "simple" rectangle of fabric with slides allowing the placing of the boning and the whole thing is ruled on the dummy with masking tape and loooot of patience.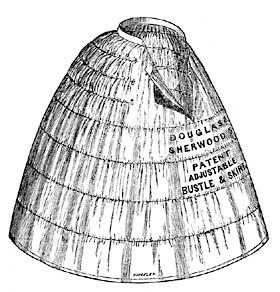 Le modèle qui me plaisait, vu que je suis plus "épaisse" que les dames de l'époque je vais juste la faire "un peu" plus ample - The historical crinoline that pleased me, I'm thicker than the ladies of this time so I will make it "a bit" more wider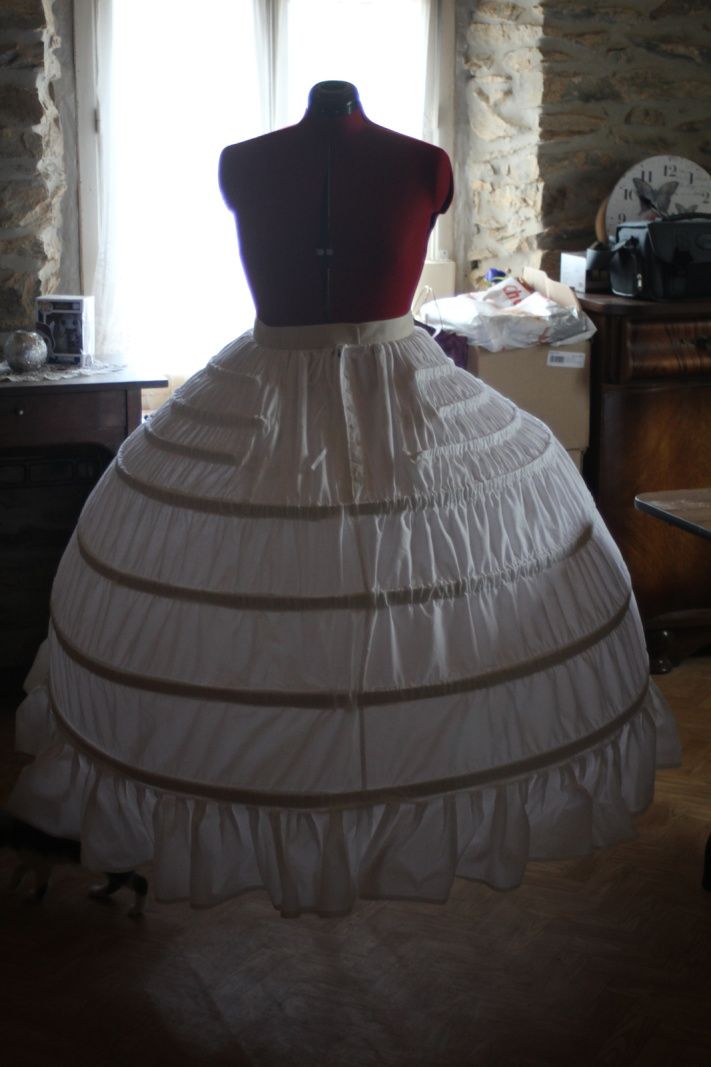 Désolée pour le désordre derrière, je suis encore en cours d'installation de mon atelier... Me manque des rangements... - Sorry for the mess behind, I'm still making my workshop and in lack of furnitures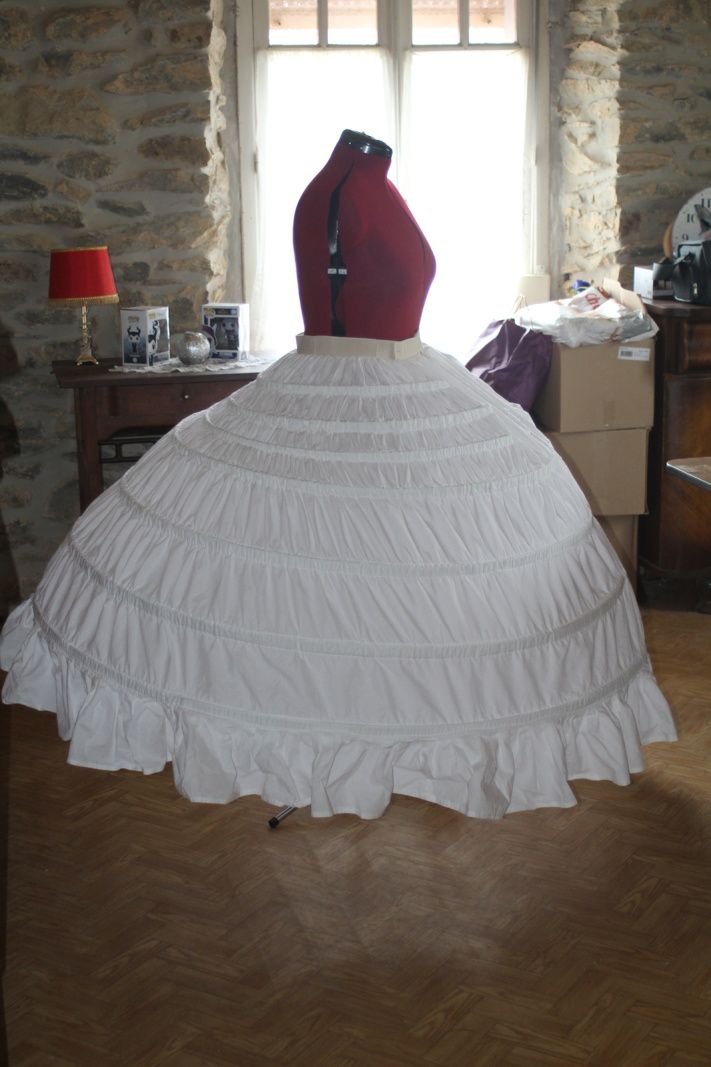 J'hésitais entre une crino ronde et une élliptique... J'ai décidé de ne pas choisir, vu de face on dirait une ronde et vue de profil elle tend vers l'élliptique!
***
I was hesitating between a round crinoline and an elliptical one... I choose not to choose, seems to be round see from the front, seen by thge side it looks like an elliptical one!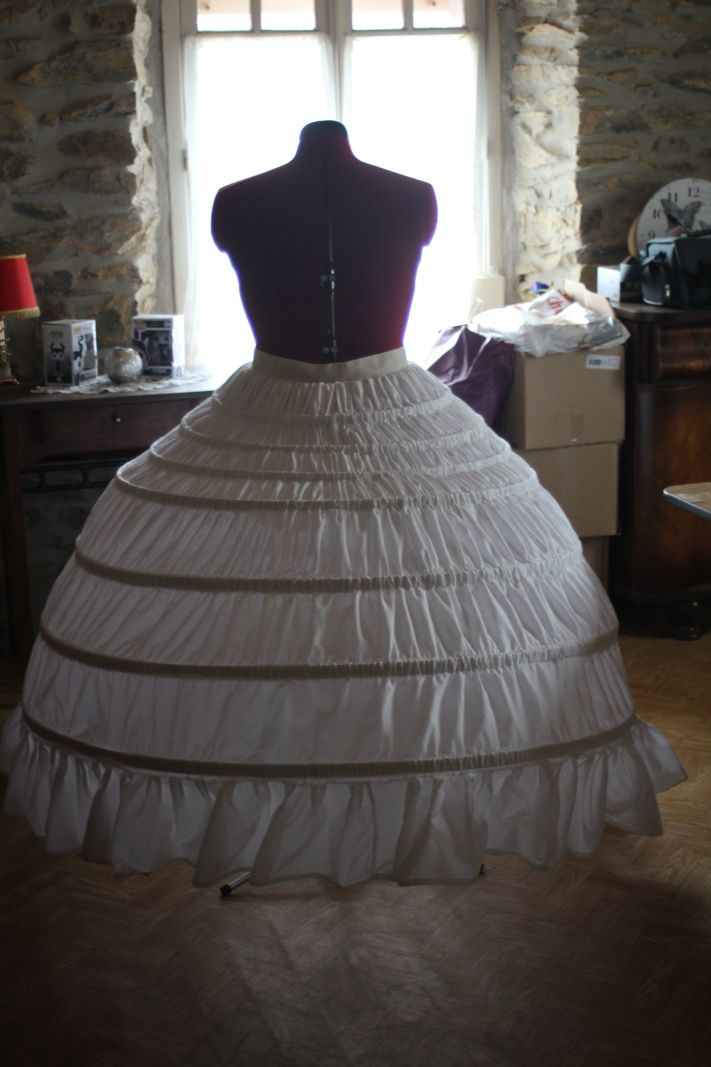 Vue arrière!
***
Backside view!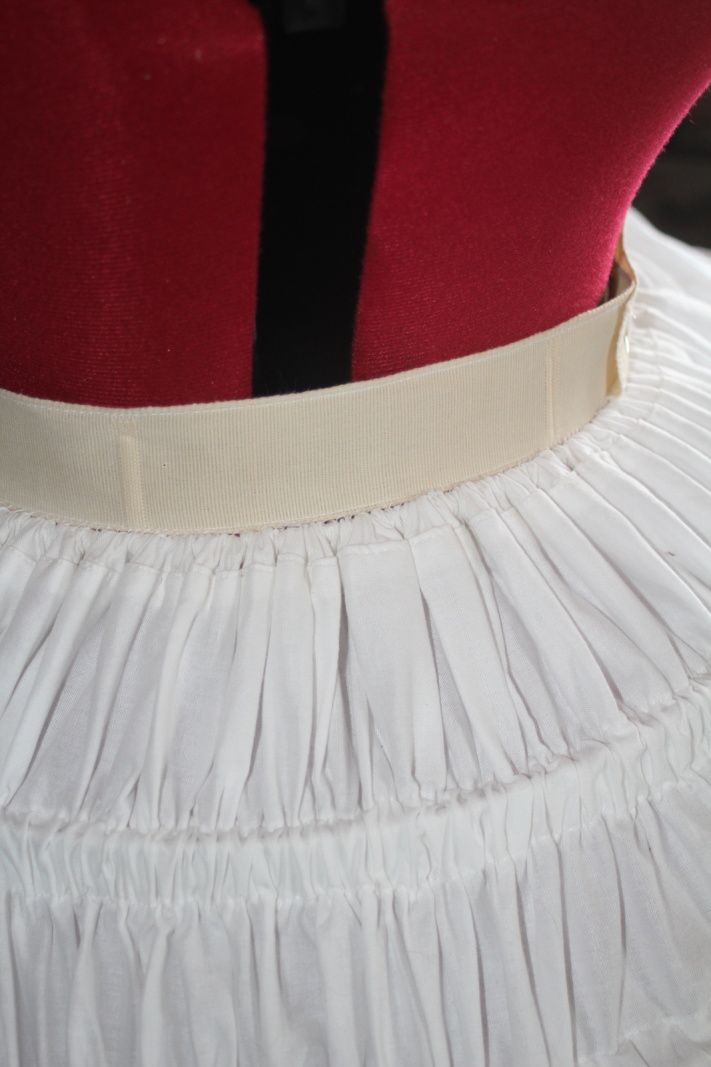 Vue de près de la ceinture montée.
Elle a été cousue au petit point sur un monte-jupe baleiné (une curiosité vintage présente dans le stock de matos qu'on m'a donné).
***
Close-up view of the mounted belt.

It is sewn with small point on a boned monte-jupe (a vintage curiosity present in the stock of sewing stuff that was given to me).
L'ouverture sur le devant est maintenue fermée par 7 boutons et un crochet.
La ceinture se ferme par un grand crochet et un liens rappelle les crinos que je faisais plus jeune (nostalgie quand tu nous tient).
Petite particularité en plus: cette crino n'est pas baleinée avec du baleinage dit "classique" j'ai été chercher 8 profils plats en magasin de bricolage, ça coute 3 fois rien, c'est flexible, solide, léger et ça se travaille et se coupe facilement. Un rêve pour baleiner les crinos!
***
The opening on the front is maintained closed by 7 buttons and a hook.

The belt closes with a big hook and a decorative link reminiscent of the crinos that I made younger (nostalgia when you hold us).
Small peculiarity in addition: this crino is not boned with so-called "classic" boning I have been looking for 8 flat profiles in DIY store, it costs 3 times nothing is flexible, solid, light and it works And cuts easily. A dream when boning crinos!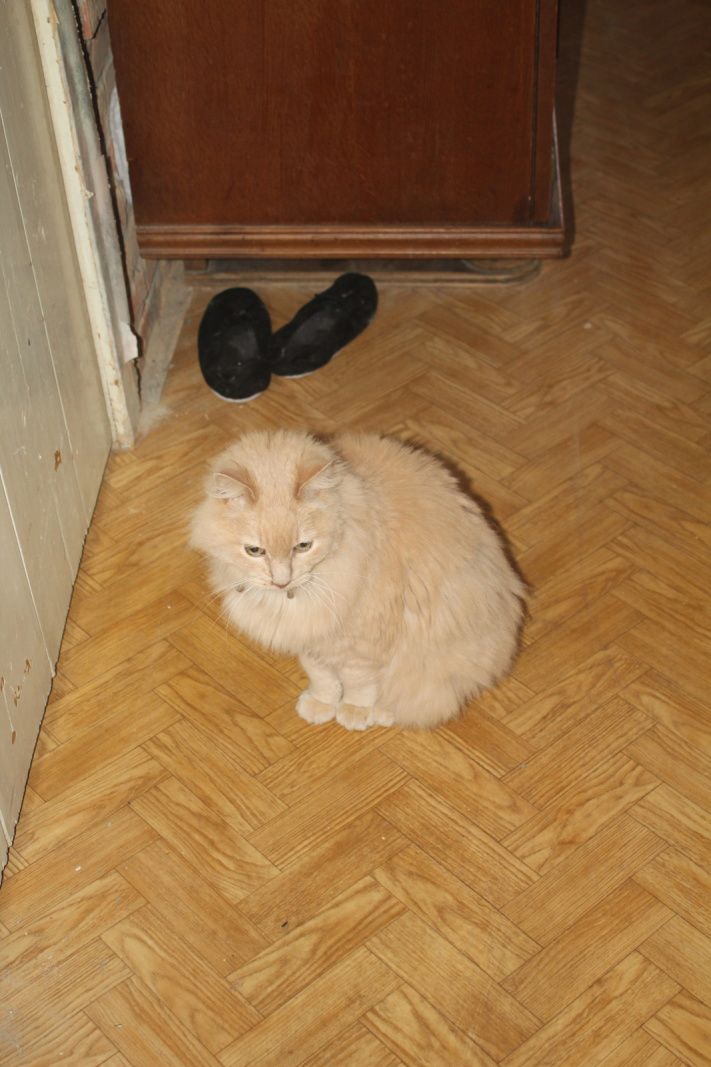 T'en pense quoi Mylord?
Je te laisse Lecteur, j'ai encore beaucoup de travail devant moi.
Bon week-end et a la prochaine!
***
What do you think about Mylord?
I leave you Reader, I still have a lot of work to do.
Have a nice week-end and see you soon!